AMD has been on a launching spree for the last few months. Although not all of their latest offerings have been well received by users, reviewers, and media alike, they seem to sell to be selling like hot cake provided the pricing advantage AMD has. This has completely manifested in April 2022's Steam Hardware Survey.
What is Steam Hardware Survey?
Steam conducts a monthly test of its's users' system specs. The client considers data from a huge number of users, thereby making its hardware survey a scalable tool for market trends and sales data. The Survey mainly considers data on your CPU, GPUs, displays, system memory, whether you have a VR setup, current OS version, etc. Users can also voluntarily choose to opt-out of Steam's survey if they do not want their system specs to be evaluated against the market.
How AMD RDNA2 Graphics Cards Stormed the April 2022 Steam Hardware Survey
Three AMD RDNA2 graphics cards popped onto the Steam Hardware charts this month after being in complete tranquillity all these months. These three cards are the budget-friendly Radeon RX 6600 and the Radeon RX 6600 XT, and AMD's highest-end graphics solution, the RX 6900 XT. These cards have jumped up to 0.30%, 0.15%, and 0.15% market shares respectively after having no hold in terms of sales figures all these months since their release.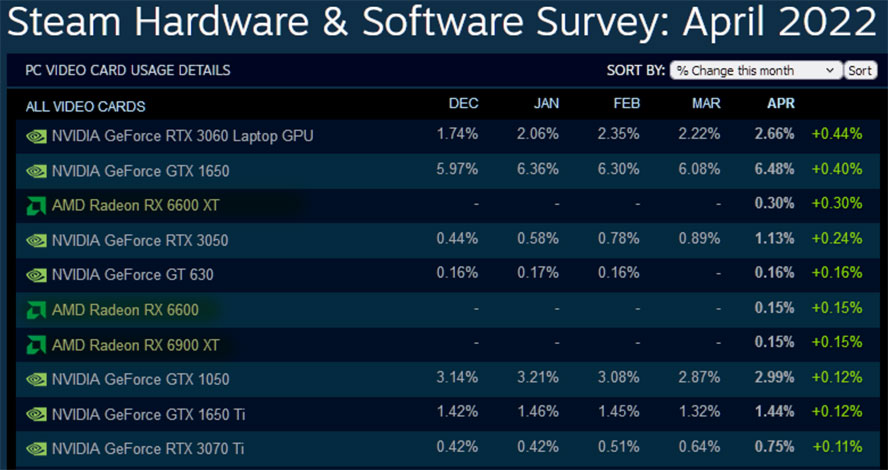 Interestingly, hexa core CPUs have fallen in popularity, and the crown has been reclaimed by quad-core chips. This development is quite strange in a market which is supposed to move more than 6 core chips at this point. However, Intel's latest Alder LakeCore i3 chips are quite powerful options, thereby keeping quad-core gaming relevant to date.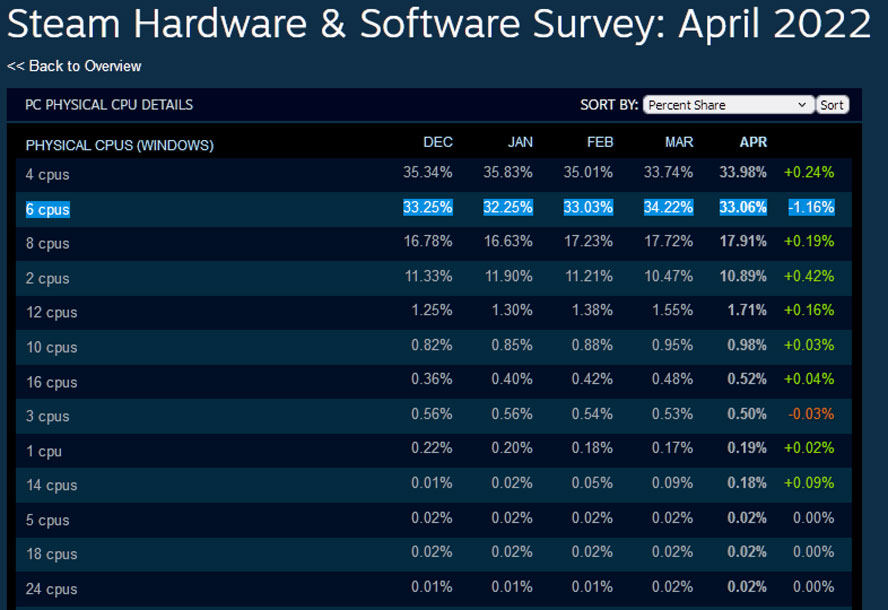 We sight this sudden jump in quad-core popularity as an outlier, and hexa core CPUs will be back at the top within the next month. Octa core CPUs also have started to pick up in popularity, and we see them pulling close to 4-core and 6-core options by the beginning of 2023.